December 8, 2021 |
By RGR Marketing Blog
Can Solar Sell Itself in Winter? How to Address Your Prospects' Concerns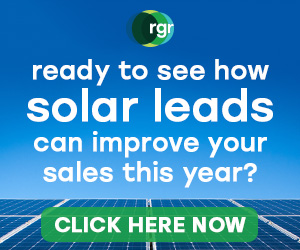 Selling solar in winter can be a little more difficult than selling it in the spring and summer because the days are shorter and tend to be more overcast. This can cause some prospects to wonder about solar's ability to provide them with the power they need during the winter months.
But as challenging as it might be, there are some real tangible reasons why going solar in winter makes fantastic sense. It's your job as an installer to educate your prospects as to what these reasons are. By hitting on your prospects' pain points, you will increase your chances of securing more installations over the winter. Here are the top five pain points you need to hit when selling solar in winter.
#1: Protection Against Power Outages
A winter power outage can be devastating, especially for families where most of their appliances run on electricity. This is a powerful pain point that you can use to your advantage when trying to sell solar in winter. With a properly sized solar system and battery storage capacity, a household can avoid the inconvenience and potentially dangerous reality caused by a wide power outage because all its daily electricity demand can be produced by their solar system.
#2: Save Money on Installation
If cost is one of the primary reasons why a prospect is hesitating to go solar, then this hurdle can be overcome simply by having their solar system installed in the winter. The winter is solar's "off season," so installers have plenty of extra time to take on installations and this can lead to incredible deals, more convenience, and faster installations. Plus, this is the time of year when demand for solar tends to wane, so equipment prices also tend to take a tumble.
#3: Greater Personal Attention
In solar, every customer is your most important, but during the heat of the summer installation season, individual attention can sometimes fall by the wayside. If your prospect is someone who appreciates being the number one priority on your installation list, then securing a winter solar installation will allow you to provide them with all the service and attention they expect.
#4: Greater System Efficiency
There's a common misconception about solar that it is inefficient in winter. The truth is, solar is more efficient during the cooler months. In the summer, the intense heat of the sun's rays can cause the efficiency of solar panels to drop slightly. Because of cooler temperatures, this isn't a problem in the winter months, so your customer's solar panels will operate at peak efficiency all winter long.
#5: New Year = Fewer Federal Tax Incentives
Every time the calendar flips from December to January, the federal solar tax incentives changes and usually not for the better. For example, in 2022, homeowners can claim a 26% tax credit for systems installed between 2020 and 2022, but if your prospect waits until 2023 to schedule their installation, their tax credit will drop to 22%. And, unless Congress takes action to extend the tax credit before December of 2023, that will be the last year such a benefit will be available.
Boost Your Winter Marketing Now With RGR Marketing's Solar Leads
There is no time to wait if you want to take advantage of winter's solar selling potential. At RGR Marketing, we can provide you with solar leads custom curated according to your target demographics, so your sales team can have plenty of prospects to pursue this winter.
Our real-time solar leads have been scrubbed and validated, and this means you can convert them in less time and for less money. Plus, all our solar leads are scalable and easy to integrate into your existing lead management system.
Get to work this winter using reliable solar leads from the leader in the industry with more than 20 years of experience serving solar installers – RGR Marketing!
Contact Us
Get started with free* leads.
Call us at 310-540-8900
Don't take our word for it—find out for yourself how good our leads are and what a difference working with us can make.
Call us at 310-540-8900 or fill out the form below and we'll tell you how you can get high quality leads for free*.
I authorize ReallyGreatRate, Inc. to communicate with me via email.
* Get up to 10% free leads on your first order!