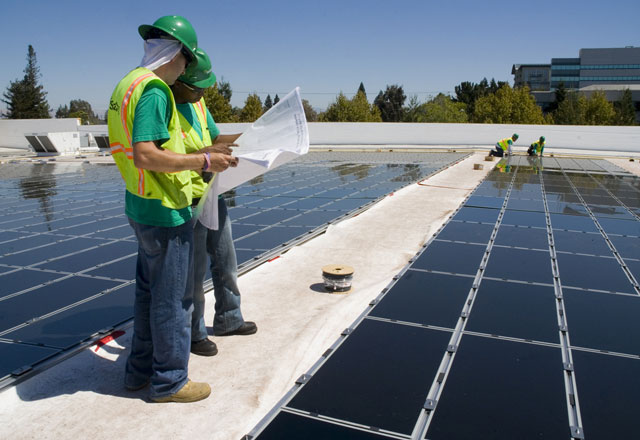 March 22, 2018 |
By RGR Marketing Blog
Solar Energy Powers Some of Largest Corporations in the World
Solar power is being accepted by more and more businesses and corporations because these CEOs understand the importance of using renewable energy sources. Renewable energy is good for the planet and of course, it helps these companies strengthen their bottom lines. The fact that today's eco-aware consumer is also more likely to buy from companies with green initiatives is yet another factor.
But, not all companies make it public that they are being powered almost entirely by solar or wind. In fact, here are ten Fortune 500 companies that you might be surprised to learn are listed on the EPA's Green Power Partnership Fortune 500® Partners List. Armed with this information, you will be able to make a more compelling pitch to business owners who are still on the fence about going solar.
Microsoft Corporation
Microsoft is powered entirely by solar and wind. The tech giant also has an annual green power usage of 4,557,278,000 kWh. Microsoft is one of two Fortune 500 companies that gets all its energy from renewable resources.
Intel Corporation
Intel Corp. is the other Fortune 500 company to get all its energy from renewable resources. While Microsoft uses solar and wind, Intel uses solar, wind, small hydro, geothermal, and biomass technologies. Intel has an annual green power usage of 4,152,034,623 kWh.
Kohl's Department Stores
Kohl's makes the ideal example of how solar energy can make a difference in a retail environment. The company's solar and wind systems generate 15% more energy than it uses, and its annual green power usage is 1,429,423,791 kWh.
Apple, Inc.
Apple, Inc. is powered entirely by solar, wind, biogas, biomass, and small-hydro energy systems. The world's most popular smartphone manufacturer uses 1,173,352,630 kWh of green energy every year.
Capital One
Capital One is not only a leading provider of banking and financial services, but it is also powered by a variety of different renewable sources, including solar. In fact, Capital One's systems generate 114% of its annual green power usage, which is 467,587,957 kWh.
Netflix, Inc.
Netflix has had a significant impact on how people all over the world get their entertainment. The streaming giant is known for innovation and that commitment is likewise seen in its energy resources. Netflix only uses 100,057,534 kWh of energy per year and it uses solar, small-hydro, geothermal, wind, biogas, and biomass to generate 198% more energy that the company needs!
The North Face
The North Face is another retailer that has embraced solar energy and like many on this list, its systems produce more energy than the company uses, 15% more, in fact. The North Face only uses 21,778,186 kWh of green power per year as it is.
BD
BD is a global technology company that caters to the medical field. The company uses 558,700,386 kWh of energy every year and all of it comes directly from renewable resources. BD uses solar and wind systems as its only sources of energy.
Cisco Systems, Inc.
Cisco Systems, Inc, is one of the largest manufacturers of technology and telecom products in the world. It uses 1,106,969,859 kWh of energy and 100% of it is delivered by solar and wind systems.
BNY Mellon
BNY Mellon is a Fortune 500 company and one of the largest banking and financial service providers to go 100% green. The company has an annual green power usage of 290,106,378 kWh and its renewable solar and wind energy sources produce 5% more energy than BNY Mellon uses.
The next time you have a prospect in the corporate world who seems unsure about the benefits of solar power, bring this list with you so you can share with them the results that some of the top Fortune 500 companies have enjoyed. After all, if solar is good enough for Microsoft, Apple, and the rest, how can a client think their company can't benefit from it?
Contact Us
Get started with free* leads.
Call us at 310-540-8900
Don't take our word for it—find out for yourself how good our leads are and what a difference working with us can make.
Call us at 310-540-8900 or fill out the form below and we'll tell you how you can get high quality leads for free*.
I authorize ReallyGreatRate, Inc. to communicate with me via email.
* Get up to 10% free leads on your first order!