Real Estate History: Did you know that the oldest real estate brokerage in the United States is Baird & Warner? The…
https://t.co/wK448ZQGjN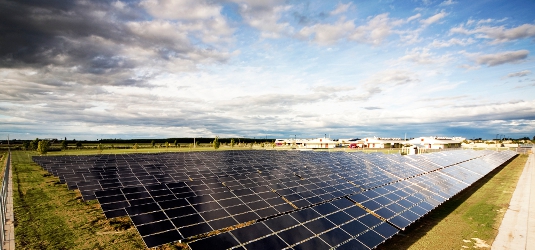 April 3, 2015 |
By RGR Marketing Blog
The Sun in California Is Powering Thousands of Homes
Solar power is heating up across the nation, as more consumers look for ways to preserve the environment and save money. Lots of states are working to boost their solar capacity, but one state is the undisputed champion.
Is it Arizona's solar power, given the state's bountiful sunshine? Nope. Is it North Carolina, with its giant tech-sector solar farms? Not even close. It's California. The Golden State turns more golden sunshine into power than any other state in the union.
How Much Solar Power Does CA Produce?
As of this writing, California's total solar capacity is poised to overtake the 10 Gigawatt mark. That's an awful lot of solar power. Just to give you an idea, it's enough to power nearly 2.5 million homes. It's also enough to send a Delorian into the future at least 8 times, and almost enough to launch a shuttle into space, if we ever come up with an electric space launch system.
California Is Picking Up the Pace
Not only is California the leader when it comes to total solar capacity, it's also installing solar at a pace that makes other leading solar states look like underachievers. During 2014, California installed 4316 MW of solar power. That's more than the entire country installed in between 1970 and 2010. Last year's new installations alone were enough to power more than 1 million homes with clean, renewable energy.
For the sake of comparison, let's take a look at a few solar leaders. North Carolina was last year's runner up for solar installations, installing a respectable 396.6 MW. NC is no slouch. It's got more solar energy than all the other southern states put together.
Nevada installed 339.3 MW during 2014. Massachusetts? 308.2 MW. Arizona added 246.6 MW of solar capacity, and New Jersey installed 239.8 MW. Those are all respectable additions, but you could add them all up, then add the installations of the remaining top ten states, and still not even come close to California's numbers. That's quite an impressive feat.
Why California Is Winning the Solar Race
To be fair, it's not really a race, and any effort states make to source more energy from renewables should be commended. But if it were a competition, California would be leaving everyone in the dust. So why is the Golden State putting every other state's solar game to shame?
For starters, the state's renewable portfolio standard is quite ambitious, requiring utilities to obtain 33% of their power from renewables by 2020. Governor Jerry Brown would like to see the RPS goal increase to 50% by 2030.
Another key driver in CA's solar boom is the fact that the state's large businesses are getting on board in a major way. Campbell's Soup, Apple, IKEA, Walmart, Johnson & Johnson, and Walgreens have all installed major solar systems in the state.
California also boasts some very attractive incentives for solar adopters, including sales and property tax exclusions, RECs, and a very favorable net energy metering program.
California: Always the Trendsetter
California has always been ahead of the curve, a place where cultural phenomena are often born. Only time will tell whether the rest of the states will catch up with the Golden State, but they had better get busy if they hope to compete.
[Photo Via: PV Magazine]
Latest from Twitter
@RGRMarketing
wrote:
"Real Estate History: Did you know that the oldest real estate brokerage in the United States is Baird & Warner? The…
https://t.co/wK448ZQGjN
"
Contact Us
Get started with free* leads.
Call us at 877-272-4600.
Don't take our word for it—find out for yourself how good our leads are and what a difference working with us can make.
Call us at 877-272-4600 or fill out the form below and we'll tell you how you can get high quality leads for free*.
* Get up to 10% free leads on your first order!